Lenore Von Stein (singer/composer) has been making collages using a mixture of musical disciplines and media for several years. Recent concert performances include the collage "There Is No Such Thing As Race" with Daniel Carter, Rob Brown, among many others, "What My Style is Made Of" and "Tolerating Ambition" with Tony Trischka. Von Stein originated the role in Samuel Beckett's one-person piece, "The Expelled." Amanda MacBlane in the New Music Box called Von Stein's recently released 1687 recording "I Haven't Been Able To Lie And Tell The Truth" "Stark musical reality infused with energy." Lenore Von Stein's other recordings on the 1687 label are "Blind Love = PoRno?" and "Love Is Dead" "Tradition is in the eye of the beholder…surreal and uninhibited.somewhere between Cathy Berberian's microtones and Ella Fitzgerald's silky scats… strikingly offbeat lyrics, subtler, ever innovative." Kyle Gann & Gene Santoro, Village Voice & Pulse.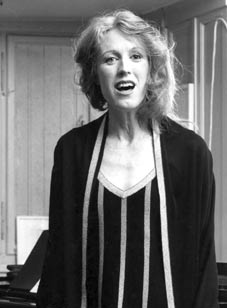 Beth Griffith (soprano) has appeared with Sequentia, Musikfabrik, Ensemble13, L'Art pour L'Art, Cologne Radio Symphony Orchestra, and the Paris Nouvel Orchestra Philharmonique and has worked with composers John Cage, Morton Feldman, Mauricio Kagel and Karlheinz Stockhausen. Her one-hour, solo recording of Feldman's "Three Voices" was awarded the German Record Critics Prize.
Bern Nixheld one of the two guitar seats (from 1975 to 1987) in the original edition(s) of Ornette Coleman's band Prime Time. Nix's album as leader "Alarms and Excursions" on New World Records features Fred Hopkins and Newman Baker.
Guest Musician
Guitarist Dom Minasi is a primarily self-taught, natural musician, in his youth he backed singers and played his share of rock & roll, church dances, and small jazz combo gigs starting at age 15. As an educator, Minasi took many private students at a young age, while launching a professional career with two albums for the Blue Note label in the mid-'70s. Minasi has written several books on music disciplines, including improvisation, theory, and chord substitutions. Some of his collaborators have included Michael Jefry Stevens, Blaise Siwula, Ken Filiano, Joe McPhee, Tomas Ulrich, Steve Swell, Borah Bergman, Perry Robinson, Bryan Olson, Matthew Shipp, Jackson Krall, Jon Hemmersam, and John Bollinger.